MIDI Instruments - Part I

MIDI Instrument, MIDI Controller, Sound Module, Virtual Synth
by Ron Tongue
One of the most important parts of your MIDI setup is your MIDI instrument. In general, the better quality instrument you have, the better it sounds. In order to make your MIDI tracks sound "real", you're going to want quality patches (sounds).

By far, the most popular of the MIDI instruments is a keyboard. As technology advances, more and more instruments are appearing on the market. Other popular instruments include wind controllers, MIDI guitar/bass, and MIDI drums.
Before I get into the different instruments, I want to clarify the difference between a MIDI instrument, MIDI controller, virtual synth, and sound module.
MIDI Instrument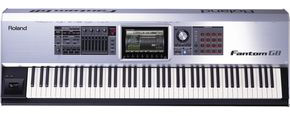 Roland Fantom G8
A MIDI capable instrument is an electronic instrument with a built in sound bank. The most popular is the keyboard. These instruments need to be able to translate MIDI data which allows them to communicate back and fourth to a computer and other MIDI gear.
The big distinction here is that a MIDI capable instrument has its own built in sounds.
MIDI Controller


M-Audio Axiom 61
A MIDI controller on the other hand is essentially a MIDI capable instrument without the built in sounds. It essentially "controls" other MIDI gear and instruments.
From my experience with keyboard MIDI controllers, they tend to feel "cheesy." I think they cut more corners than just leaving out the sounds. I've yet to play a quality MIDI keyboard controller, although it may be out there. But being a trained concert pianist, I tend to be very picky with feel of my keyboard.
Part of making your MIDI recording sound "real" is how well you play it. A better built instrument with properly weighed keys will improve your music. So if you can afford it, I recommend buying the keyboard with built in sounds.
NOTE!! Many MIDI capable instruments also feel cheesy, so take you time and do the research before buying one.
That being said, by using a MIDI controller in your studio (or even on stage), you can save tons of money by controlling sound modules and virtual synths!
NOTE!! MIDI capable instruments with built-in sounds can also work as a MIDI controller.
Sound Module


Roland Fantom XR
A sound module is the missing half of your MIDI controller. It's the brain of a MIDI capable instrument and contains all the sounds and cool stuff. Most major keyboard workstations offer a sound module version of their synth. They contain the exact same sounds and functionality, and often allow for greater memory upgrades.
Virtual Synth


MOTU Electric Keys
I remember about 17 years ago when I really began using MIDI wishing for software in my computer that had great sounds that I could control with my current MIDI keyboard or MIDI software. Although I couldn't find anything back then, today there are tons of options.
A virtual synth is software you install on your computer and control with a MIDI instrument or MIDI controller. All of your instrument sounds are stored on your computer and accessed with your MIDI software.
This is another way to save money by having only one MIDI capable instrument or controller in your studio then adding several sound modules and virtual synths giving you access to thousands of sounds.
NOTE!! A virtual synth requires a lot of RAM and a decent processor in your computer.
Now let's take a closer look at the MIDI instrument and controllers that are currently available.
---
---
comments powered by
---
Copyright 2012 All Rights Reserved Home Recording Hub, Marietta, GA