How to Record Multiple Tracks in
Apple Garageband
A Three Step Guide


by Joe Schlicht
Step 3:
Once you are satisfied with your recording, you can start another new track by repeating step 2 and so fourth until you have your finished song.
If you are recording anything besides electric guitar using a direct input, say a bass guitar for example, you need to start a real instrument track.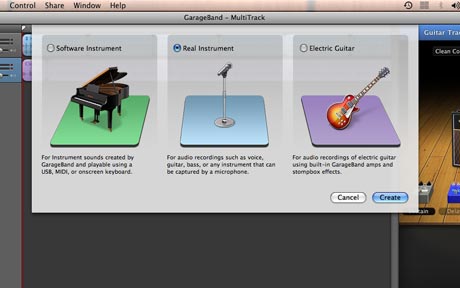 You can see that by default you have a Basic Track with no effects. To access the bass amp models, just below Basic Track you can see the setting for Bass. Click there and you can see a list of bass amp presets.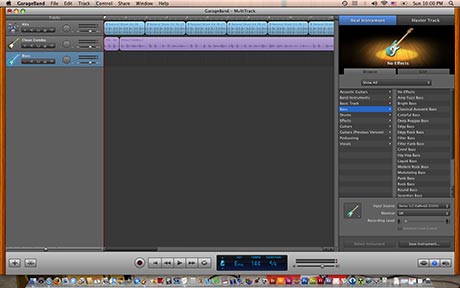 This is different than the new amp model feature in GarageBand '09 for electric guitar. I wish Apple would make an update and use the same convention for bass amp modeling as they do for the current electric guitar amp modeling, where the GUI looks like real amps with knobs you can tweak.
Incidentally you can also record electric guitar direct by also using a real instrument track and accessing the guitar amp models that way. But I think by doing this you utilize the older amp modeler that was standard in previous versions of GarageBand. It's not quite as fun to use as the new GUI where it's much more visual, closer to the experience of using a real amp.
For your reference you can change the track icon to represent the instrument you are using. In the "Browse" tab you will see an icon in a square at the bottom. You can click on that and a bin of icons pops up where you can choose the appropriate icon for the track. (pic 24)
Also you can name your tracks by clicking on the track name and typing whatever you want to title name the track (pic 25). I simply called mine Bass.
If you don't wish to choose one of the bass amp presets, and you want to tweak your own, click the "edit" tab and where you can see the bass amp modeler listed. Click on the bass amp picture to edit and tweak your bass amp sound (pic 30)(pic 31).
In the top drop down menu of the bass amp modeler there are more presets, and below that is where you can choose your amp model and tweak the settings to craft your sound. If you like your custom sound, you can save it as a preset and access it for future projects with a simple click (pic 36).
TIP!! If when you click on the "edit" tab, and the bass amp modeler is not there, no problem. It means you just didn't choose a preset to begin with. Just simply click on an empty effect space and call up the bass amp modeler and proceed from there.
---
Audio Example #3
Drums, Guitar 1, Guitar 2 and Bass - Unmixed
Audio Example #4
Drums, Guitar 1, Guitar 2, Bass, and Lead - Unmixed
---
If you want to add vocals, the same thing applies. Start a new real instrument track, and make sure you have your mic plugged in to your audio recording interface, and don't forget to switch on phantom power if you are using a condenser mic.
Like the the bass, you can choose presets to tailor your sound under the vocal presets.
Also don't forget to Save your project often - File - Save or Command (Apple) - S.
In this example I have utilized an Apple Loop drum track, 3 electric guitar tracks and a bass guitar track. All of my instruments were recorded through my Focusrite Saffire LE using the instrument inputs, or the Direct Input or DI.
In the next session, I will discuss editing, basic mixing, panning and adding effects to your multi track recording.
---
---
comments powered by
---
Copyright 2012 All Rights Reserved Home Recording Hub, Marietta, GA