GIVEAWAY ALERT!!
Our friend Cody over at Infamous Musician is doing a free GIVEAWAY of the Ultiamte Home Recording Bundle! Click here to enter now! Hurry... the cutoff is August 28th, 2017 at 12:00 PM EST.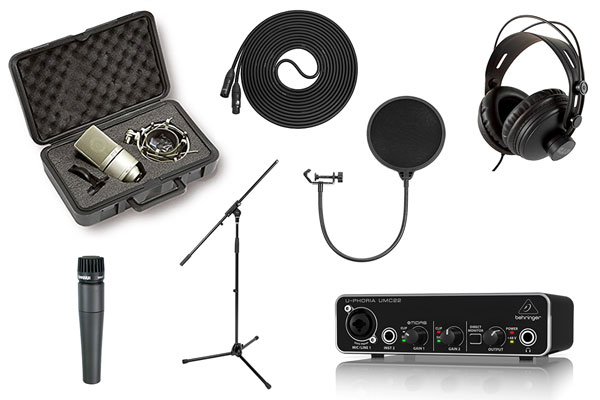 What's in Your Home Recording Studio?
What an awesome time to be a home recording enthusiast. Never before have we had access to so much great sounding recording gear at such reasonable prices.
Think about it... twenty years ago a 24 track reel-to-reel recording setup would have easily cost 10's of thousands of dollars! Today you can put together a 24 track recording studio in your home for easily under $2000, AND get a killer sound.
That's what this site is all about!
We have spent the past 18 years recording music in our homes. And now we want to share what we have learned with you hoping to save you time and frustration so you can focus on making music, not troubleshooting gear.
Not only that...
...we want to hear from you.
We know that many of you reading this have lots of your own experiences in your home recording studios. The HomeRecordingHub is a place for you to share ideas, get advice, and take part in a growing online community of other home recording enthusiasts.
---
First things first, the HomeRecordingHub is evolving each and every day. In order to stay up-to-date, sign-up for our free Tips, Tricks, and Tweaks Newsletter. There you'll find all kinds of useful information about recording, some of which will not be made available anyplace else. Plus, our Tips, Tricks, and Tweaks Newsletter is a perfect opportunity for you to submit your own articles to be published. Simply submit your name and email in the form below.
---
How to Build a Home Recording Studio
One of the biggest challenges when building your own recording studio is where should I start? There are so many options and gear choices that it's easy to feel overwhelmed. If you're like some of us out there, you may feel that if I buy this piece of gear, then I'm missing out on that piece of gear.
Don't worry... you're in the right place!
The first and most important thing you need to do is to educate yourself. Because you are here and reading this tells me you are on the right track!
Below are some great articles to get you up to speed in your home recording studio. It's time to TAKE ACTION!
The Audio Interface: the Heart of Your Home Recording Studio. The gateway to sound coming IN and OUT of your computer. If you are new to home recording you may be wondering which audio interface you need to buy. I'll help by explaining some of the features that these interfaces have.
Recording Software and My Dirty Little Secret. Recording software serves two basic functions in your studio. They are...
Computer Audio Recording. True or false: With computer audio recording you need the fastest most up-to-date computer in your studio for great sounding audio.
The Microphone Demystified. When choosing microphones for your home recording studio there are several things you need to know...
Does Size Matter? That depends if you have one or not... a mixing board that is. You may not even need a mixing board with all the options in today's home recording studio configurations. Just like other parts of your home recording studio, the mixing console serves two basic functions...
Did you know that your Studio Monitor set is one of the most important components to your home recording studio? Audio Monitors are essentially specialized reference speakers that allow you to hear what you have recorded and mixed. You need a good pair of monitors to give you an accurate mix that will translate well to other listening systems.
Studio Accessories... Don't Leave Home Without Them. Before I share with you my list of studio accessories, I'd like to tell you a little story that inspired this whole topic...
The Art of MIDI Recording - How to Enhance Your Digital Audio Recording. When used properly, making a MIDI recording is an incredibly powerful tool. With today's technology, you can create realistic recordings of thousands of instruments and timbres.
---
Copyright 2012 All Rights Reserved Home Recording Hub, Marietta, GA